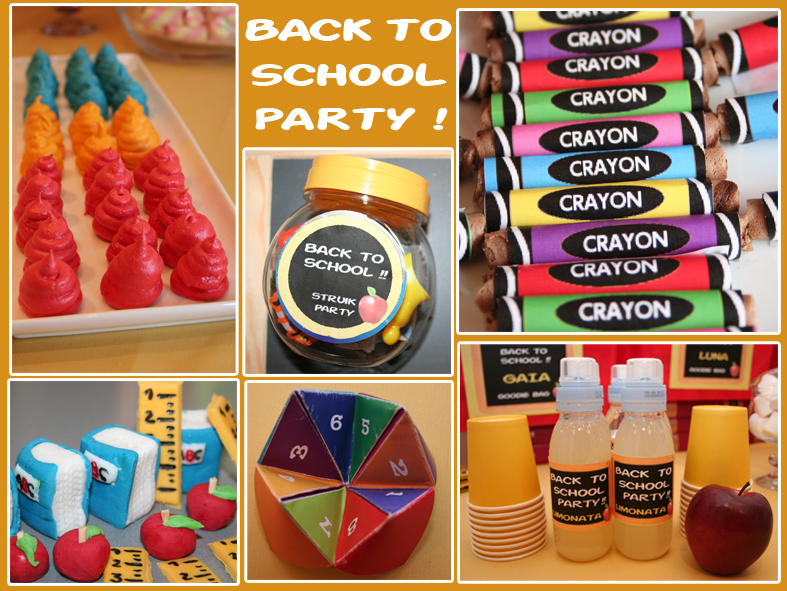 Here the result of my last days! After I saw so many ideas on the american sites around this theme I though " why not throw one myself for my little girls?… I am sure that one one hand they are enthusiastic to go back to school, but on the other hand they are also worried for the new coming year. They have to study again, homeworks, interrogations and with them also their little worrying thoughts… and in the end it could have been also a nice excuse to stay together and play with Nabiki.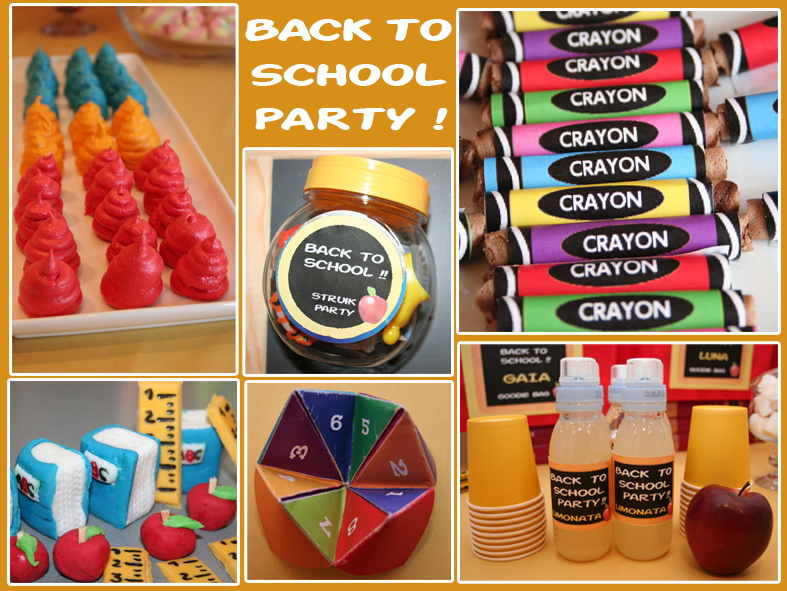 Evenrything was around the school theme.
As colours, I chosse red, yellow and blue. Then I prepared the icing decorations in shape of apples,rulers and books that I wanted to use on my cupcakes (which are not common at all here in Italy)
Then I prepared some meringues with the same colours and I displayed them on a rectangular plate. I made the crayons biscuits using some ice-cream biscuits cut in two and rolled in caryola (I found the template at Party by Hardie).
I also prepared some toys I used when I was little and I used them to decorate the table. And finally to give an extra touch I've also created some water lables in the same colour theme that I wanted to use for water and lemonade bottles (replacing thei original one).
I found a blackboard at Ikea (I would have bought this in any case for Nabiki) and I placed it at the center of my living room to welcome all the guests and after that we used it for the activity games I organized. They were divided in two team and they had to choose a word from a bag, draw it on the balckboard without speaking and the other member team had to guess. It was really fun!
On the table I placed some pencils to give a better idea of the school theme… for the same reason I used red apples to decorate. At a local supermarket I also found some mini blackboard that I bought for 1,50 euro together with some coloured chalks that I gave to the girls at the end of the party: i added also some stationaries ina nice & personalized plastic jar .
Not happy enough I sew some tissue holder in their favourite colours that they can carry in their backpack.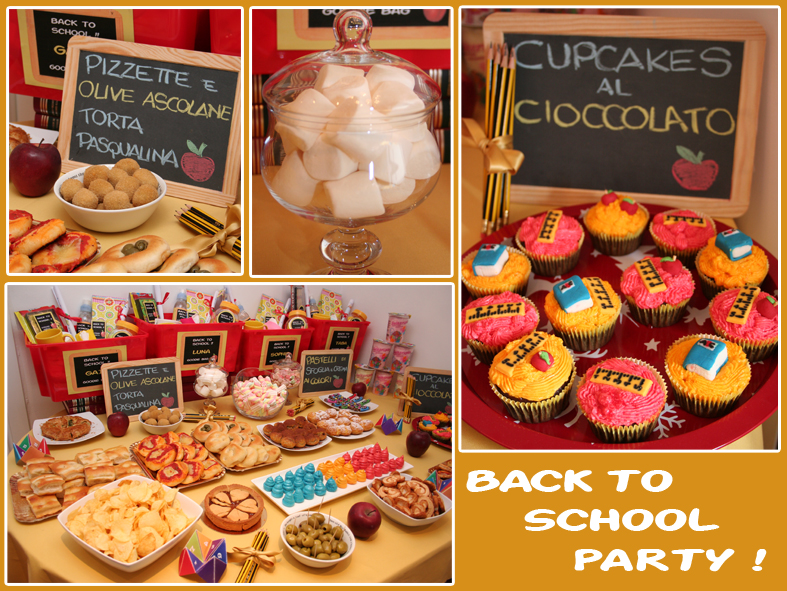 The buffet was prepared with a yellow fabric and some vintage enciclopedia volumes to display the goodie baskets.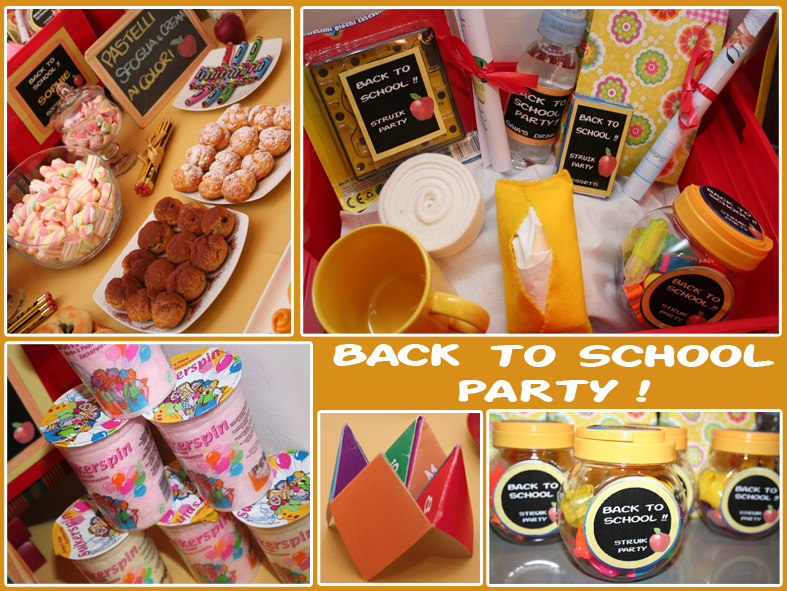 To serve I prepared simple things like coloured marshmellows, candy cotton cans, cream and chocolate bignè, chips, pizzette (very smal pizzas) olive foccaccia and an apricot cake. My party was in the afternoon so it was more a snack buffet than a lunch buffet.
The goodie bags (more baskets to be honest) included: a yellow breakfast mug, a blackboard, some coloured chalks, a tissue holder, a pocket size toy, a personalized bottle of water, one bag full of candies, a jar full of erfumed little shaped rubbers and 2 different lists templates (one for their fvourite readings and one for their school schedule that they can use to remind their mother what their week is like) .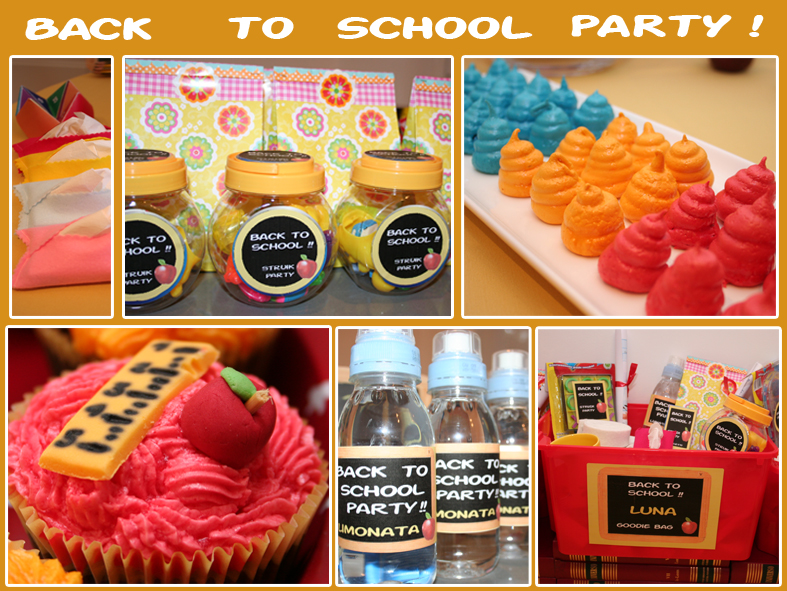 Everything was placed in a red plastic basket that i bought again at Ikea and that i customized with a very big label with guest names.
I hope these ideas are useful. if you want to replicate this party and you need more information just contact me.