What is this? This is exactely whatI asked myself when I saw this picture..  confess that I was more amazed for the little cute bag and this is why I clicked on the picture to discover what it was….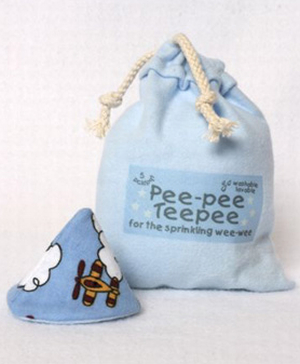 There is nothing to do… americans have always some new ideas 🙂 These are actually some sponge & cotton cones in many patterns used to prevent baby boy to sprinkle on you while mommy (or daddy) change them! How cute is that?… and how clever….
Well.. if you have a sewing machine I really suggest you to try them as a nice, smart & easy handmade gift. They are comfortable, funny and useful and moreover you can easily wash them in the washing machine! Moreover if you sew them you can choose your favorite fabric.