Monday 07 December, 2009
I am sorry that I was not able to post anything in these last days.. Unfortunately three days ago I broke my ankle and it was quite difficult for me to do anything.. now I am getting use to move with chalk but of course I cannot wait until I will remove it…
Well… let's speak about something happier… Finally the invitation you were waiting for is arrived!
Paper Glitter drawed a beautiful cloud invitation to complete the set and it is now available on her site for a free download! How cute is that?!?!? an the smiling sun??? It is a ultra happy and colorful theme. And since she is the best, she also completed it with an envelope. Run!Run! Run and download it!
Now you can have it for free, print in your own house, as many times as you like and use it for your children!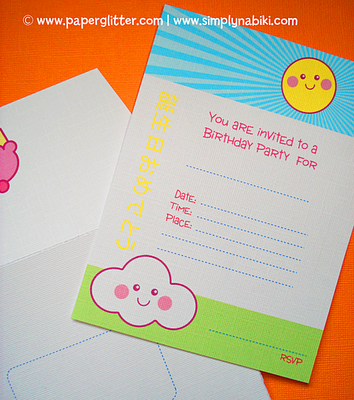 Potete scaricare l'invito a nuvoletta qui: Paper Glitter Cloud invitation